People often ask me how I developed all the components of the Big Joe storytelling experience. Here is the story about how all the parts of me came to be…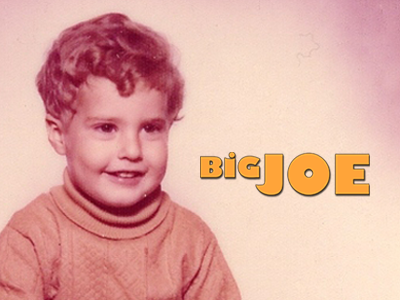 The Name
During my first year as a preschool teacher, we had a boy named Joe. When the other teachers called "Joe" we would both turn around. To correct this, they started calling him "little Joe" and me "Big Joe." From that day on, everyone including teachers, parents, and kids started calling me "Big Joe." In fact, the name stuck for the rest of my preschool teaching career. When I became a storyteller, I was going to use my real name (Joe Pagliuca) but I thought it was too hard to pronounce and wasn't quite catchy enough. Then it hit me, the best name I could use was the one preschoolers had been calling me for years…BIG JOE!
The Style
People often describe my storytelling style as "exciting", "energetic", "animated", and "amazing". I have been called a "human cartoon", a "funny force of nature", and (from the Boston Herald) "The Robin Williams of the G-Rated set". Most of my storytelling style comes from my very extraverted personality and my over active imagination. A lot of my style also comes from watching lots of cartoons, a deep interest in Sesame Street, and a love of comic icons like the Marx Brothers, Three Stooges and Charlie Chaplin. Most importantly, much of who I am and how I perform comes from my mom who read me lots of books and told me lots of stories while I was growing up!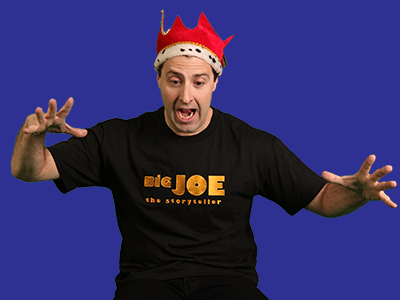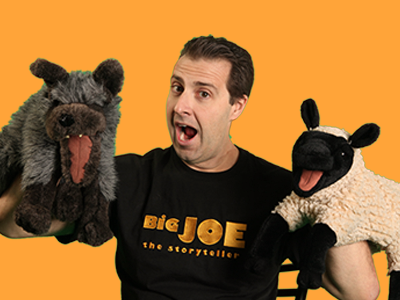 The Puppets
Being a big fan of Sesame Street and the Muppets, has led to my absolute love of puppets. I used to collect puppets during my preschool teaching days, and when I left teaching I had quite a collection. When I became a storyteller, I thought it would be cool to use the puppets in my show to add another level of excitement! I am not a ventriloquist by any stretch of the imagination, but I put a lot of energy into my puppet work, which really helps to bring them to life (not literally of course!). I use the puppets to represent characters in my stories, entertain my young audiences, and be a foil for my many comic bits!
The Props
While younger kids like the puppets, some of my audiences are a bit too mature. As old as they are, however, I still want my show to have a bit of wonder and fascination. So, for the older kids (and adults), I use a collection of props and other interesting items. Whether it's a strange colored rock, a wooden box, or an old picture, I want to add a sense of realism to my stories and take an audience's experience to a whole new level!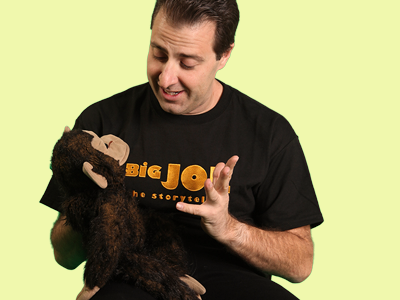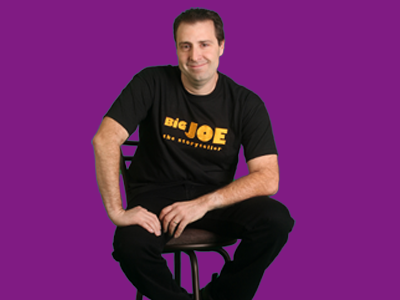 The Box
When I was a child, my mom took me to a magician who used a big steamer trunk in his act. I was at the edge of my seat waiting to see what the magician would pull out of the trunk next. When I became a storyteller, I wanted my audience to have that same edge of their seat feel when they saw my show. To make that happen, I designed my own kind of trunk. It is a bit more portable than the old fashioned kind, and it is decorated to reflect my personality. Most importantly, out of that box comes a wild assortment of puppets and props that will delight, amaze, and thrill. You never know what will come out of the box next, and therein, lies the fun!
The Stories
You can't be a storyteller without stories, and I have a lot of them. People often ask where I get my amazing tales. Well, the story behind the stories is that I get my material from three sources. The first source is folktales, fairytales, classics, and multicultural tales from here and from around the world. I read tons of books, listen to CDs, and scour the internet for stories that will thrill my audiences. The second source is my own fertile imagination. I have been writing stories long before I became a storyteller, and even more so since! I love to write, and I love the feeling of being able to create a story that no one has heard before! Finally, the last source of my story material is my own life. They say truth is stranger than fiction, and with me that saying couldn't be more correct! I led a very strange life and had some really amazing adventures. I discovered early on that nothing I write could compare to what really happened. I usually save my true tales for older audiences (because they are chock full of sarcasm), but even my younger friends get a taste of what I was like when I was little Joe!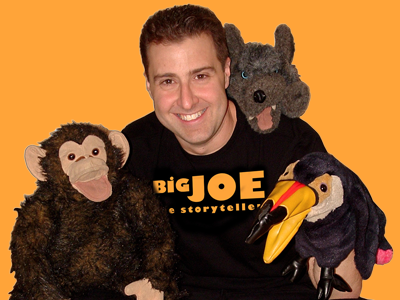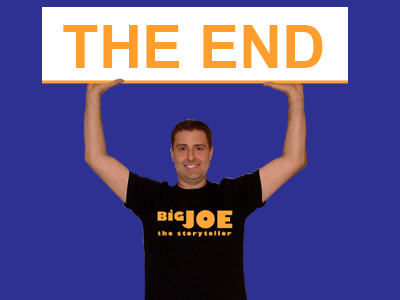 So there is everything you wanted to know about what makes me tick! If you want to know anything else, look me up and I will tell you all the tales you want to hear. I'm a storyteller, that's what I do!!